Problem
Rasmus's
post
in the thread called "Let us go outside!" just realized me something... There was shown a picture of surface world mountain where Imps were claiming tiles, however what they did reminds even the Almighty Lord Rasmus of a "parking lot" - this caused me to think - is this how will all conquered areas would look like? Like a parking lot? Are we doomed to be graystoned? :-/
Maybe it's actually nothing bad?
Solution
So what if there could be a different way of claiming tiles on surface world, maybe that won't change their look, but something could just tell us "this tile is your tile my lord"? What if we could apply this to underground world too? So the stone paths (at the moment made when Imp is claiming the tile) could be made as now decorations ONLY and that require some building materials to make them - like UfoL proposed below the mentioned Rasmus' post above.
Maybe our area of influence could be still changed, but depending where and by whom it is changed could look different?
Are such, similar mechanisms existing in other games? If yes, in what form then? Let's take a look.
Examples
1. In "Disciples" your area of influence will expand whenever you put a wand on the tile that after being put on that tile transforms the area near the wand - depending on your faction - into snowy, grass, defiled or volcanic terrain: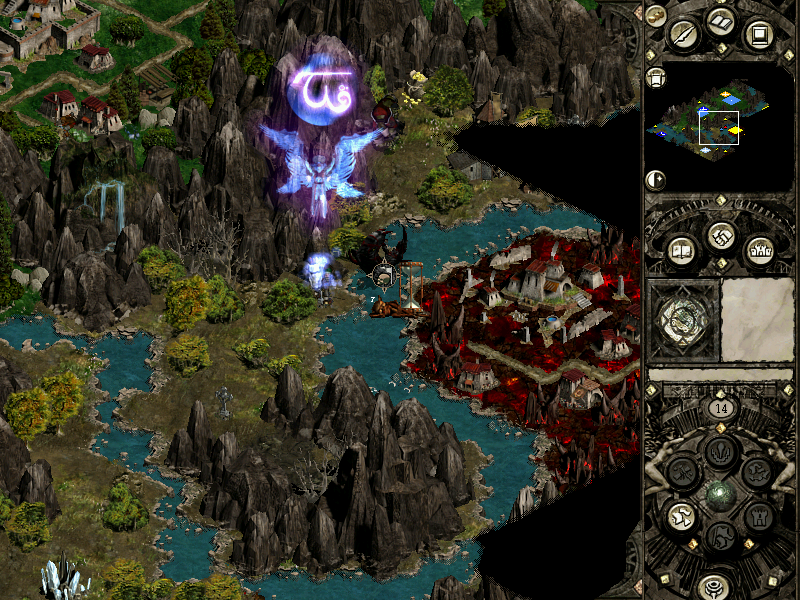 Pic 1. Different kind of terrains - volcanic to the right and grass to the top of this picture in Disciples 2.
2. In "Dungeons 2" your area is also being claimed by Imps, however it doesn't transform tiles into the stone paths or anything else. There's also a surface world where actually claiming tiles doesn't existing, however parts of territories conquered by evil lord on the map are transforming into sort of volcanic terrain - like you can see in Dungeon Keeper series on the campaign map view after conquering lands.
Pic 2. Underground world - claimed tiles got different decorations like mushrooms or spider's web around them.
Pic 3. It's a surface world bridge that has been conquered by the army of evil lord that has been transformed into the volcanic terrain.
3. In "Warcraft 3" only the Undead faction could transform the land into different terrain, what's more only on this decayed soil they could build their buildings.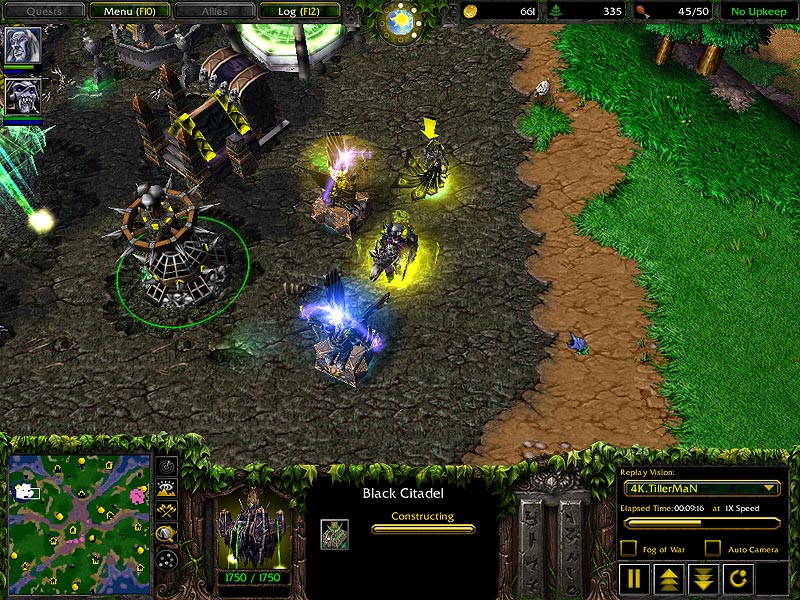 Pic 4. Undead area of influence.
Ideas?
I actually don't like the way of transforming beautiful nature into big plain of gray, hmmm... however we could transform it into the plain of pain, I mean maybe where are our tiles claimed they could turn in underground world into some magical or demonic things and on the surface into areas full of magma and blood? Maybe we just could leave the ground and area claimed by us unchanged however something would there be to mark claimed tile as ours?
I personally like the idea to not change claimed areas into anything, but some small indicators like solid, scratched ground - depending on what kind of tile you claimed - could tell us a difference - the same could work for surface world. The soil of the surface world could look a little scorched when claimed by our Imps as the soil of dungeons could be a little more looking like a dungeon, a little bit more volcanic.
Anyway what do you think guys?
Should our moves influence the nature, or it's ok to have everything greystoned or maybe environment even our control shouldn't change whenever we claim the tiles and expand our influences?
Spec: Win 10, ATI 7800 HD, res: 1280x1024x75. I support The Venus Project & Resource-Based Economy